Invisalign® Invisible Braces for Teens and Adults at Brodhagen Dental Care of Green Bay
Invisalign® braces are almost invisible allowing teens and adults to gently straighten their teeth without the noticeable metal wires or brackets. Many individuals avoid having their teeth corrected because they don't want to show the unsightly metal braces every time they smile or talk. This revolutionary technology puts an end to the embarrassment caused by a "metal mouth."
The clear and nearly invisible braces have more than cosmetic benefits:
They are proven to be effective in treating a wide variety of dental problems including crooked teeth, crowding, spacing and overbite.
They are removable—making it more comfortable when you eat (allowing you to consume the foods you love) and easier to brush and floss your teeth.
They are convenient—fewer dental visits are required (once in six weeks after initial visit) when compared to traditional braces.
They are easier to use as you don't have to worry about breaking the rubber bands or braces.
Clinical research shows that Invisalign® clear or invisible braces are an effective solution to correcting many types of dental issues both for cosmetic purposes as well as better periodontal health. A certified Invisalign® dentist like Dr. Mark Brodhagen can explain treatment procedures and benefits in detail.
Invisalign® Dentist Dr. Mark Brodhagen provides custom teeth straightening at Brodhagen Dental Care
Invisalign® uses a series of clear, removable retainers for effective teeth straightening. The slightly higher cost when compared to metal braces is a small price to pay for enhanced comfort, convenience and self-esteem.
Dr. Brodhagen has extensive experience in performing Invisalign® procedures. Here is a quick summary of the process for Invisalign® braces at Brodhagen Dental Care:
At the initial consultation our Invisalign® Dr. Mark will assess your requirements, explain the process and take an impression for your custom braces.
Total treatment time is approximately 9-15 months and the average number of aligners worn during treatment is between 18 and 30.
You will be asked to wear each set of aligners for about 2 weeks, removing them only to eat, drink, brush, and floss.
As you replace each aligner with the next in the series, your teeth will move week after week until they have straightened to the final position Dr. Brodhagen has determined for you.
You'll visit Brodhagen Dental Care about once every 6 weeks to ensure that your treatment is progressing as planned.
Brodhagen Dental Care is a well-known Green Bay dental practice that provides the latest cosmetic and restorative treatments for individuals and families. We employ advanced, computerized Invisalign® technology for a perfect fit and enhanced comfort. Whether you want a straighter smile or long to eliminate the discomfort of crowded teeth, Dr. Mark Brodhagen can tailor the Invisalign® treatment to best suit your needs. Make an appointment today!
Phone 920-499-2121 for an initial consultation, an appointment, or for more information about Invisalign®. You can also make an appointment here.
Related Orthodontic Articles
Clear Orthodontic Aligners
The orthodontic treatment using clear aligners consists of a series of aligners that you change about every two weeks over a course of treatment lasting six to eighteen months depending on how much movement is needed…Read Article
Clear Aligners for Teenagers
Teens who regard traditional braces as restrictive, confining, and obstructive to their lifestyles now have another choice for orthodontic treatment: clear aligners. This advanced dental technology, originally geared toward adults, has recently evolved to treat a greater variety of bite problems in younger people… Read Article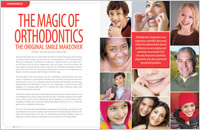 The Magic of Orthodontics
Proper alignment of the teeth is basic to "Smile Design." Their position dictates how they work together and affects the way you look and smile. Only orthodontic treatment can move teeth into the right position. Simply put, when things look right, they probably are right. Learn the basics of smile analysis and design and whether the magic of orthodontics will work for you…Read Article